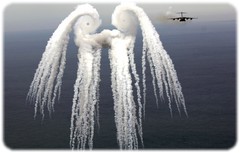 Miscellaneous
Stuff that don't categorise easily.
Favourite video
Lady Agnes' final flight
Through many years, about 2,000 flight experiments were carried out by Otto Lilienthal on a grass field at Gollenberg, close to Stölln-Rhinow in Germany. At the spot where he, on August 9, 1898, crashed and the following day died from his injuries, stands today an Ilyushin Il-62 from the old East German airline Interflug to commemorate the aviation pioneer.
| | |
| --- | --- |
| | Otto Lilienthal flying one of his gliders at Gollenberg. |

What is interesting about all this is the way the big airliner got there. In October 1989, Captain Heinz-Dieter Kallbach and his minimal crew flew the aircraft to Gollenberg and made a spectacular landing on the 900 meter long grass field. After smoke and dust had dispersed, it was brushed up and put in its new place. Today the old Soviet airliner goes by the name Lady Agnes, after Otto Lilienthal's wife, and is used as a museum and at odd weddings. Fortunately the whole operation was filmed and saved for posterity.

The story of how Iljushin Il-62 DDR-SEG, later known as Lady Agnes, came to end up at Gollenberg. The famous touchdown is at about 1:15.
German flying boat salvaged in Öresund
During the German occupation of Denmark, guarding of harbours and the coast off Copenhagen was carried out by, among others, eighteen Blohm & Voss BV 138 seaplanes. Most were scrapped or moved from Denmark following the liberation, but two of them, called Enken fra Kastrup (The Widow from Kastrup) and Anders And (Donald Duck), were left behind.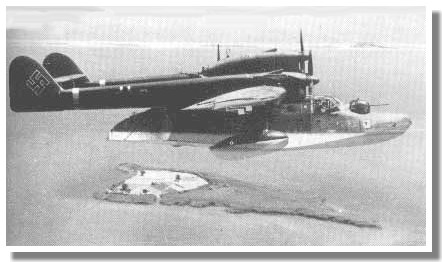 On July 1, 1945, the Royal Air Force arranged an air display at Kastrup, over the waters of Öresund. It was a big success, more than 200,000 war-weary and relieved Danes had made their way to Amager to see the RAF showing off. One of the most appreciated parts of the display was when abandoned German equipment was anchored at sea and rocketed and bombed to pieces, and swastika-decorated airframes and hulls went down in smoke and flames.
Half a century later, when the artificial island of Pepparholm was created as a joint between the Öresund bridge and the Drogden tunnel, a wrecked aircraft was discovered on the bottom of the sea. It turned out to be one of the seaplanes. The wreck was lifted in 2001 and moved to Denmark Technical Museum in Helsingør, where it is now displayed in the condition it was in when found underwater. Surrounding it is a detailed exhibition of its history and salvage. Today this is the only remains in the world of the aircraft type Blohm & Voss BV 138.
| | |
| --- | --- |
| | |
| The preserved remains of a BV 138 at Denmark Technical Museum. Above the fuselage is a circular beam that ran through the wings, from wingtip to wingtip, a construction that seems to have been unique to Blohm & Voss flying boats. | |