Handley Page HP-42
Handley Page HP-42 was operated by Imperial Airlines for long-range European (HP-42W) and Western routes (HP-42E) in the 1930's. In its ten years of civilian service not a single life was lost, which is probably unique for contemporary airliners. Apart from one HP-42 being destroyed in a hangar fire in 1937, the rest survived until the outbreak of the second world war. By that time they were taken over by the Royal Air Force and by 1940 none was left airworthy.
[ Top of page ]
History
Handley Page designed HP-42 to a 1928 Imperial Airways specification. The giant four-engined biplane's maiden flight took place on November 14, 1930, with Thomas Harold England at the controls. On June 11 the following year it was time for the first flight with paying passengers, destination Paris.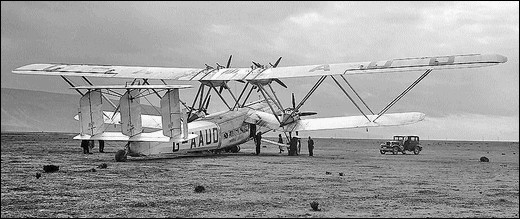 Handley Page HP-42 Hanno of the Imperial Airways is prepared for take-off. All pictures on this page are from the same occasion, at Semakh on the south shore of the Sea of Galilee in Palestine - contemporary Israel - in October 1931.

Eight HP-42W/E were manufactured. The cockpit was enclosed, a novelty at the time, and there were two passenger cabins, one fore and one aft of the wings. At most, about 40 passengers could be seated. HP-42W and HP-42E were Imperial Airways' names; they were designated HP-42 and HP-45 by Handley Page.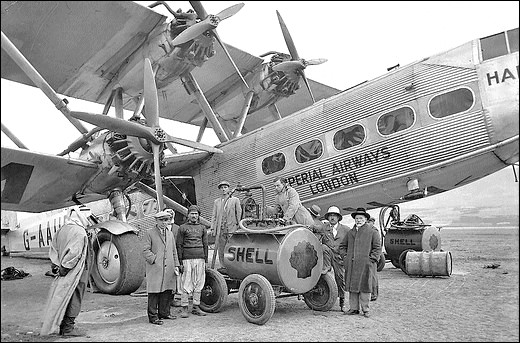 Fuel wagon with an early Shell logo. Note the four-bladed propellers, consisting of two screwed together two-bladers.
[ Top of page ]
Video
| | |
| --- | --- |
| Grand premiere of HP-42 Hannibal in November 1930. Opens with Frederick Handley Page making a speech. | |
| | |
[ Top of page ]